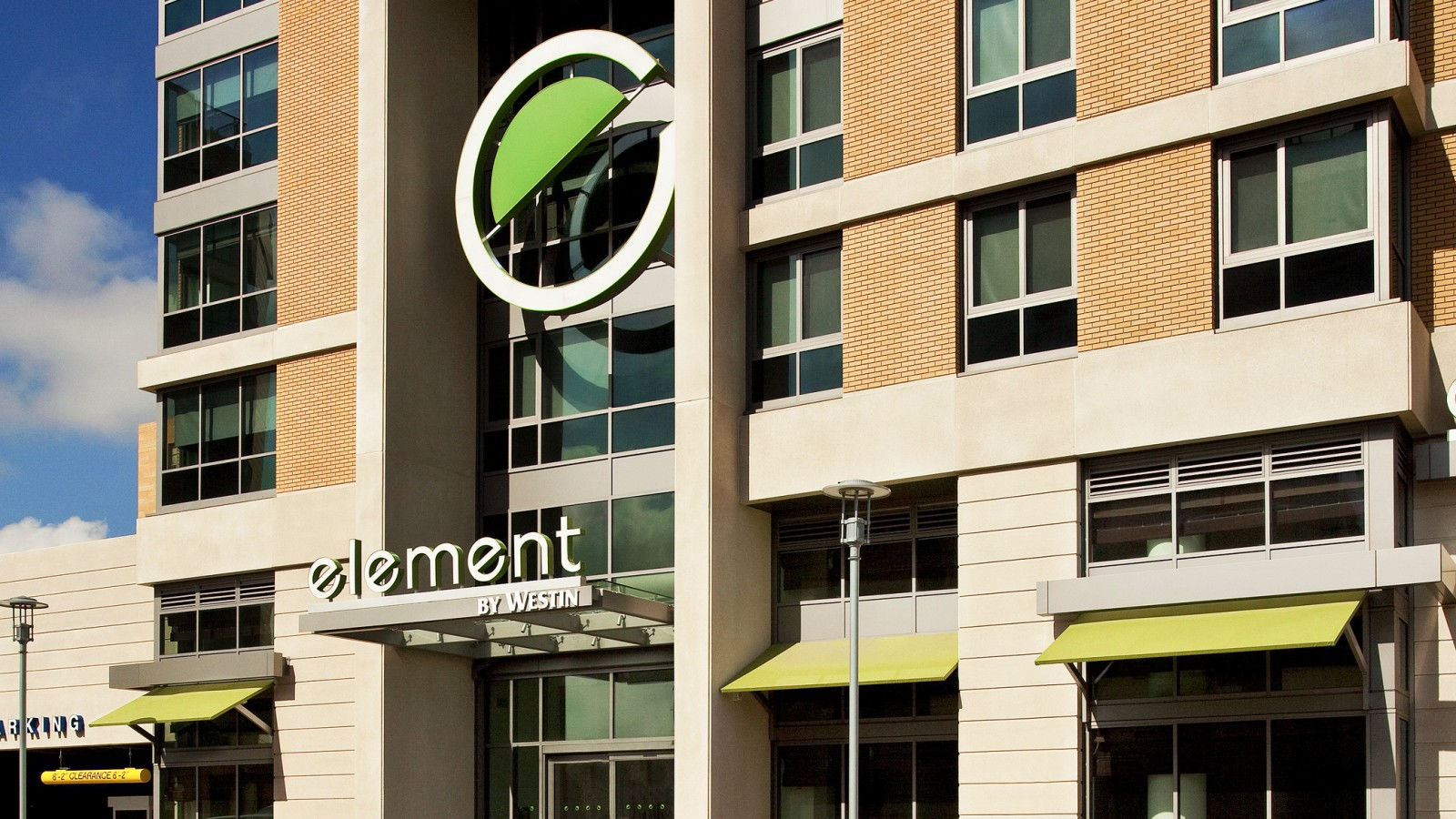 Omaha Midtown Crossing
Midtown Crossing hails as one of the most prominent entertainment destination in Omaha. Featuring delicious restaurants, fantastic shopping and a movie theater, Midtown Crossing has become a favorite spot for locals and tourists alike. For visitors in the area, Midtown Crossing also is home to Element Omaha, making this Omaha Midtown Crossing hotel an ideal place to stay for the very best in entertainment.
Book your stay and explore what Midtown Crossing has to offer>
Services
Arlan's Barber Shop - Owned by veteran Omaha barber, Arlan Peak, Arlan's is focused on old-fashioned customer service. Services include haircuts, shaves, men's facials, shoe shines and a variety of services for women including eyebrows, facials and foot massages.

Callahan Financial Planning - This company provide services as legal fiduciaries, without selling investment or insurance products. They are a fee-only investment management group.

Definitive Vision - Definitive Vision is an independently owned full service optical location. They strive to provide the newest technology in eye examination equipment, eye glass frames and lenses, and contact lenses.

Fashion Cleaners - Voted Omaha's best dry cleaner for eight consecutive years, their staff is dedicated to providing you with exceptional customer service, superior cleaning and finishing and meticulous attention to detail.

Garbo's Salon and Spa - Since 1988, Garbo's Salon & Spa has remained one of the top salons in the Midwest region.

Lotus House of Yoga - Our dynamic Vinyasa style classes combine music, fluid movement, breath and loving energy. We believe that everyone needs to feel the love of a healing touch and we are passionate about creating a friendly, fun and happy environment to nourish body and soul.

Makovicka Physical Therapy - Each of our clinics has Board Certified Specialists on staff. We focus on the education and professional development of our therapists, so in turn they can provide you a higher level of care.

NT Nails - NT Nails and its team of professional technicians will offer the latest in nail trends, including acrylic, solar, gel, shellac and paraffin manicures as well as hot stone and herbal spa pedicures.

Prarie Life Fitness - Prairie Life Fitness is one of the nation's leading operators of upscale health and fitness clubs. They are committed to providing services for and actively engaging their members in programs and activities for all ages and ability levels.

Royal Lux Med Spa - Royal Lux clinical experts will provide non-invasive, aesthetic treatments for face and body rejuvenation – including Botox, fillers, laser-based photofacials and hair removal, as well as other skin care and wellness programs.

Z -Wireless - A locally owned Verizon Wireless premium retailer providing Verizon Wireless service, phones and accessories.
Shopping
The Afternoon - Everyone wonders why their store is called The Afternoon, the name is a reflection of the original operating hours - it was only open in the afternoon. From the beginning merchandise has been distinctive and eclectic.

Atomic Bombshells - Atomic Bombshells is a vintage inspired clothing store featuring but not limited to, clothing by Bettie Page Clothing, Sourpuss Clothing, and Pin Up Couture, just to name a few.

Chef2 - A homegrown and deliciously distinct retailer, carries a wide selection of products for chefs and home cooks, including more than three dozen varieties of extra virgin olive oil and vinegar, sea salts and foodie tools, and more.

GNC - GNC sets the standard in the nutritional supplement industry by demanding truth in labeling, ingredient safety and product potency, all while remaining on the cutting-edge of nutritional science.

Hutch - Capturing the urban lifestyle through furniture, rugs, art, lighting and home décor from over 40 modern brands, 20 local makers and found vintage furniture.

Me & Me - Me & Me has your complete, high fashion wardrobe that's guaranteed to turn heads! They offer cutting- edge styles from both New York & Los Angeles

Provisions by the Grey Plume - This artisan grocer sells local, house-made items such as charcuterie, jams & preserves, mustards, and more. The shop also features cheeses from local creameries, cosmetics from Black Iris Botanicals, and their house-roasted coffee and espresso.

The Ugly Sister - If BLING is Your Thing and Fashion your Passion....our shop has the latest in Jewelry Custom & Costume and Purses and Trendy Fashions. Novelty gifts, BLING Belts, Tees and fashions.

Wohlner's Neighborhood Grocery & Deli - Wohlner's offers great service including the addition of a sit-in restaurant offering delicious breakfast and lunch. In addition to their restaurant, you will find an expanded wine and beer selection and more.
Restaurants
Black Oak Grill - Winner of Best New Restaurant in 2013, the menu features quality steaks from Wohlner's Grocery, great burgers, tasty wings, and a wide selection of local and craft beers celebrating the great American tradition.

Brix - Brix is changing the game in wine and spirits retailing. Combining three complimentary businesses together under one roof, Brix is truly a wine and spirits experience.

Cantina Laredo - Cantina Laredo is known for its award-winning best-of-Omaha margaritas and modern Mexican dishes served in a sophisticated atmosphere. The menu features daily fish specials, signature tableside guacamole, and entree favorites.

Chicago Dawg House - Omaha's only true Chicago style restaurant, using only the finest Vienna all Beef hot dogs! Chicago Dawg House features only Vienna Italian beef, Italian and polish sausage, bratwurst, and fresh cut French fries and onion rings.

Cold Stone Creamery - Cold Stone Creamery and Rocky Mountain Chocolate Factory have opened a single co-branded location in Midtown Crossing.

Crave - A vibrant restaurant where the cuisine, atmosphere and energy are second-to-none. Crave delivers on one simple thing: Fresh and innovative cuisine along with an impeccable wine selection brought to life for guests.

Delice European Bakery & Cafe -A long-time Omaha favorite, Delice delivers the most authentic European fare you can find. They insist on using the finest ingredients available and believe you'll notice the difference.

Grane - Grane is a unique whiskey & craft cocktail bar offering small whiskey samples thru dispensing technology, Bartender. All wrapped in 1920s/30s feel & décor.

Ingredient - Raising the bar on gourmet fast casual, ingredient restaurants use only the freshest products for our guests to create their own custom salads, pizzas or signature breakfast items.

Lenny's Sub Shop - Lenny's is the only place to find Authentic Philly Cheesesteaks & The Deli Fresh Experience™. They slice their meats and cheeses fresh to order and pile them high on fresh baked bread.

Pana 88 - Pana, short for Pan Asian, and 88 which is a very lucky number in the Chinese Culture, come together as the namesake of Pana 88.

Saints Pub + Patio - Saints Pub + Patio offers good food, great service and a vibrant atmosphere offering numerous flat screen televisions with expansive sports programming and an outdoor patio.

Thirst Tea Cafe - Thirst-Tea Café will specialize in boba teas, appetizers and smoothies. Boba tea is a Taiwanese-style, tea-based beverage mixed with fruits, syrups or milk, topped with aloe, jellies, flavored boba and other options.
Entertainment
The Corky Canvas - This unique concept is just what Omaha needs for a FUN night out! With a glass of wine in one hand, a paintbrush in the other and the music rock'n, it's a great way to spend time with friends and paint a one-of-a-kind masterpiece.

Glo Lounge - Literally GLO-ing with vibrant energy and light, this comfortably hip bar and lounge features oversized leather seating, floor-to-ceiling etched glass walls, and a sleek "video wall" of flat screen TVs.

Marcus Midtown Cinema - Featuring the best in Digital Surround Sound, UltraView® Stadium Seating, and state of the art RealD® Digital 3D, Marcus Majestic Cinema is a 5 screen facility featuring CineDine, an all-reserved seat section for a complete dining experience.

Spielbound Board Game Cafe - We believe games inspire, motivate, entertain, and help us grow. In this positive space, we seek to provide all people the challenge, art, and fun unique to the world of board games.

The Grey Plume - The Grey Plume is devoted to creating innovative cuisine on the forefront of modern culinary art, while also maintaining traditional culinary roots in showcasing the food source and practicing a no-waste attitude in every aspect of the restaurant's operation.